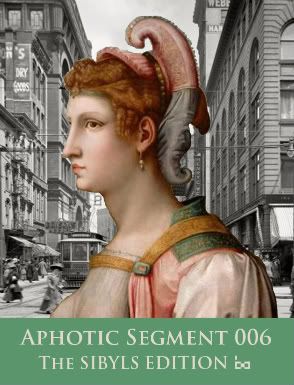 Greetings scamps, scalawags, heretics, cowboys, and homo sapiens of the gypsy pedigree. We entice you to join us for the sixth and most exciting edition of Aphotic Segment yet. It will transcend your longest memories, ingrain your conventionalisms and titillate your sharpest senses. Yes, the heavens will most certainly be channeling their abstruse messages through Detroit two most abounding oracular prophetesses.
Join us as we welcome Erika Sherman and Jennifer Rohde for a night of eerie, auspicious, and intoxicating musical stylings that even the gods would be satisfied by. Additionally, we will be celebrating Erika's birthday so be sure to offer her your best on this super day!
This will also be the official unofficial LCD Soundsystem afterglow. Check it!
Erika
– Erika.net, Interdimensional Transmissions
Jennifer Rohde
– Dorkwave
Drew Pompa
– Blank Artists
Wednesday, October 27th 2010
The Woodbridge Pub
5169 Trumbull Ave.
Detroit, MI 48208
10pm-2am
FREE