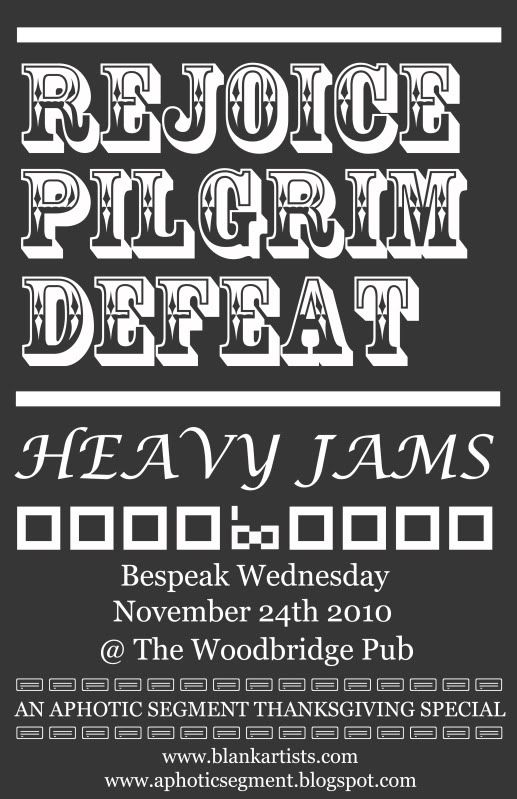 Hark fine people of the Earth. For those proclaiming liberty, viewing freedom as a birthright, come join us in shaking the heavens in pagan fashion….. for we shall seize this night. Warp the very essence of this tradition and bastardize it for your own end and celebrate with us til' the eyes go a' crossed and thine legs shan't support you any further.
Raise those tired souls and ascend, in jubilation, the peaks of joy purveyed by the inexplicable boarder ruffian, Pipé Scuttleworth. Hear, hear, and give three cheers! Raise those hands, and clank with merriment those flagons of hooch. Prepare thineselves with citrus and a healthy, preventative dose of tetanus and penicillin for a sockdolager as heavy as a quaff of Zug Island waters. Oh, and never forget, despite the inevitable intoxication about to be perpetrated upon you, Ol' Scuttleworth does not intend to jam you up, he's just going to get you jammy.
Indeed….. we're about to embark upon a night to remember, full of friends, and fiends, and nicotine dreams, and wines, and wishes, and dishes, and beautiful souls, and sky rackets the likes of which even God has never seen!
For more proper mutterings from Ol' Pipé Scuttleworth, visit
We Are All Machines
Featuring:
Pipé Scuttleworth
– DJ
Drew Pompa
– DJ
Wednesday, November 24th 2010
The Woodbridge Pub
5169 Trumbull Ave.
Detroit, MI 40208
Map It
10pm-2am
FREE