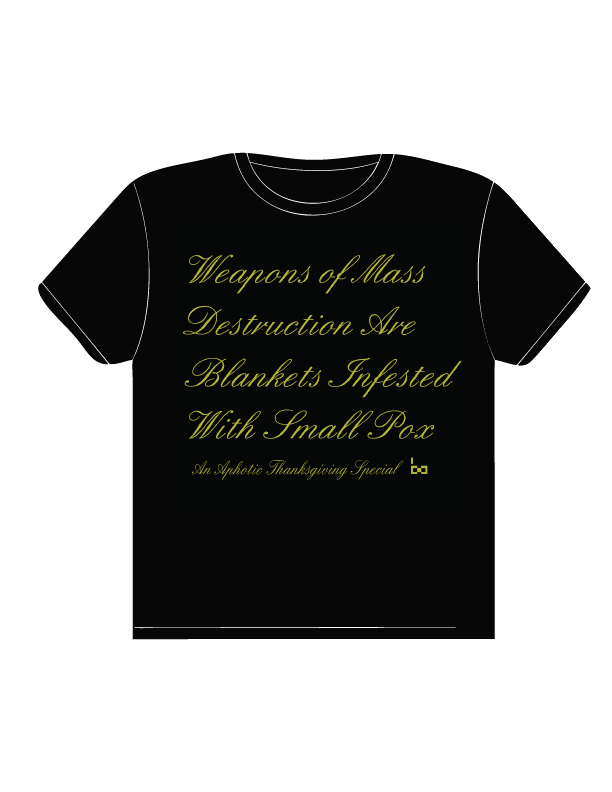 The highly anticipated and long overdue recordings from our Thanksgiving edition of
Aphotic Segment
are now available for download.
The Thanksgiving
Aphotic Special
featured fellow blood brother and musical prognosticator, Pipé Scuttleworth. As per usual, Pipé brought a well rounded influence of rock, experimental, Uk techno, drone, and punk. And if you desire an even greater level of stylings from ole' Pipé, be prepared for a very special performance from Pipé and myself at the Blank Artists 6-year anniversary, for our first ever live performance. Word is bond!
Additionally, we presented a rare merchandising opportunity for our November Aphotic. For a limited time only, we're offering large, medium, and small size t-shirts printed on American Apparels (picture depicted above). If you're interested in buying a piece of Aphotic Segment history, contact pompa.drew[at]gmail.com, and I can arrange for you to aquire one of these super sweet little buggers for your own adornment. Check it!
Part 1: Drew Pompa
Length: 54:05
Format: MP3
Bit Rate: 192 KBPS
Link:
Download
Tracklisting:
01. C.A.P & Pipe featuring Jeremiah - Unknown
02. Pale Sketcher - Wash It All Away (Cleansed Dub)
03. Colder - The Winter's Field
04. Jon Kennedy - Flux
05. Blockhead - Which One of You Jerks Drank My Arnold Palmer
06. Lemon Kittens - Small Mercies
07. Javelin - We Ah Wi
08. !!! - Jamie My Intentions Are Bass
09. Delta 5 - I'm In Color Too
10. Oscar Hamod & The Majestics - Soul Finger
11. Los Bravos - Track 04
12. Giddle & Boyd - Colour
13. Broadcast - Accidentals
14. Lelia - Daisies, Cats, and Spacemen
15. Mount Kimbie - Adriatic
16. About Flying - Future Dance
17. Modern English - Dance of Devotion (A Love Song)
Part 2: Pipé Scuttleworth
Length: 44:50
Format: MP3
Bit Rate: 192 KBPS
Link:
Download
Tracklisting:
01. Clash - Police and Thieves
02. Joe Jackson - Steppin' Out
03. Ariel Pink - Frightnight (Nevermore)
04. The Monks - Oh How To Do Now
05. Modern Eon - Mechanic
06. Deux - Game and Performance
08. Caribou - Sun
09. Steven Stapleton
10. Queens of The Stoneage - Feel Good Hit of the Summer