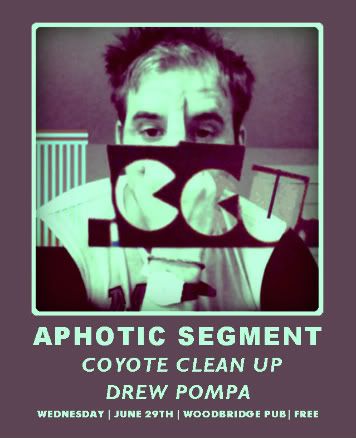 Aphotic Segment has enjoyed one year as a musical educator for the liberal listening crowd, pairing a fine musical backdrop with the necessary pastiche to spark collective inspirations courtesy of the event's special guest selectors. As we make a solid transition into this year of the golden rabbit with wisdom and prescience, we intend to uphold the divinity of this everlasting humanistic code. Far be it for us to suggest we are the architects and pavers of this road however, for there have been many, especially in Detroit, who have navigated this familial rugged terrain. Long story short, good music is great, and our mission is to continue bringing you the goods. This month's music engineer is proof positive.
Christian Jay Sienkiewicz, better known around the sub-tropical, Antarctic, eighth dimensional enclaves as Coyote Clean Up; is the guest of honor for this month's Aphotic Segment. The musical triangulation of this clairvoyant is definitely left and right of center. There is simply no telling what international waters this self-proclaimed marauder intends to traverse. You must simply wash your hands of the situation, sit back and enjoy the ride.
Analogies aside, Christian's influences are hard to pin. But whatever he plays, he's sure to arouse your specific interests. His Downhill Express album from last year illuminates his fascination with down-tempo, house, and hip-hop….. while also providing a lyrical vibe that emanates with a shoegaze sensibility. Or perhaps you heard one of the many eclectic mixes compiled under his "Ice Cold Chrissy" moniker? Funk, jazz, world, and experimental….. not to mention his remix support for Toro Y Moi and Balam Acab. Indeed, Christian's artistic integrity is looking positive these days, so don't sleep on your chance to catch a truly one of a kind set. Ya'erd!
Coyote Clean Up - Live/DJ
Drew Pompa - DJ
Wednesday, June 29th 2011
Woodbridge Pub
5169 Trumbull Ave.
Detroit, MI 48208
Map It
10pm-2am
NO Cover