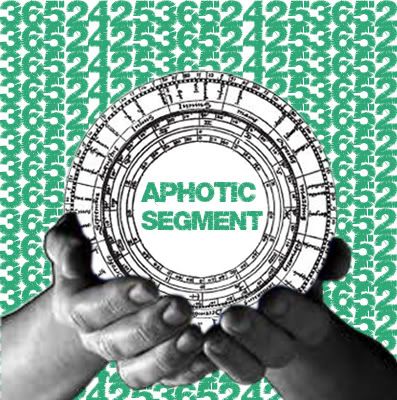 Aphotic Segment celebrates this year's February installment in observation of the lunisolar calendar's bissextile. For the greater good of 'mericans, that's fancy speak for "leap year." Indeed, 2012 has already shown signs toward predictions of conspiracy, change and even the downfall of civilization. Why not add another 24 hours? Don't you worry your little buttons…we'll make this one count.
Trail-blazing the musical selections for this month are two distinguished tastemakers. Introducing Chad Allen Pratt: very modern but also informed. Chad runs the gamut from experimental, post-punk and dream pop to their maturation, via bands like Stereolab and John Maus. Chad can be heard providing the always-pleasant soundtrack of tunes every Sunday at the Sugar House and also drumming you face off with local Ghostly outfit, Midwest Product.
Now Jeff Risk, who is the right kind of condition to help elevate the levels and askew the vernal equinox, was a 2008 Red Bull Music Academy selectee. Once you have a brief conversation with this Gregorian-esque, you'll understand. Inspired by Primal Scream and 4AD, as well as hip-hop and jungle, Jeff is everything under the sun and everything good. This one might shake the recorder a little.
We'll be doing this on February 29th at the Woodbridge Pub, so why not join us for that one extra day, and really make it memorable? I might just add this one to my eternal calendar. Always Free.
Music By:
Jeff Risk (Your Basement, RBMA 2008) - DJ
Chad Pratt (Midwest Product, Ghostly) - DJ
Drew Pompa (1/2 of the Siege, Blank Artists) - DJ
Wednesday,February 29th 2012
Woodbridge Pub
5169 Trumbull Ave.
Detroit, MI 48208
Map It
10pm-2am
NO Cover