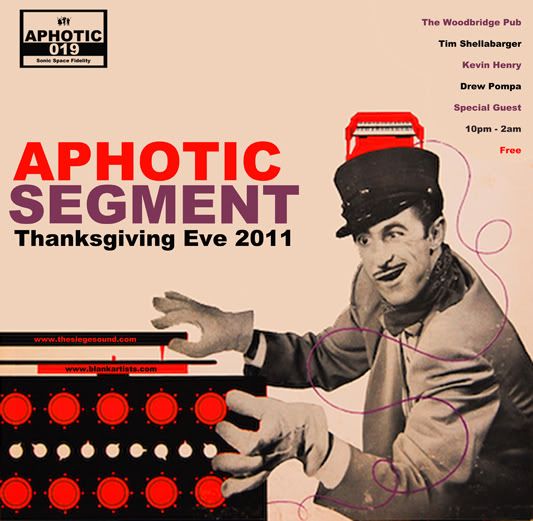 Aphotic Segment welcomes its second annual Thanksgiving eve celebration at the Woodbridge Pub. The first annual event was a rousing success, but in the spirit of Aphotic's tradition of spontaneity, we're changing gears this holiday. No talks of revolution or egregious pagan rhetoric. No protestations…. Simply, no strings attached.
Instead, we'd love you to join us, just as you normally would on the night before Thanksgiving. Casual to heavy drinking, reflections on the nightmares of holiday travel, your wretched in-laws, and the insidious pressures of modern life. Soothe your holiday spirit with the abundant flow of spirits and the general merriment of friends, before you retire to a day of family feasting.
A delicious palette of music will be plated and properly served by Will Sessions' member, Tim Shellabarger and your favorite Slow's BBQ server, Kevin Henry. Starters and night caps provided by Drew Pompa plus a new special guest added. Always FREE!
Holiday Soundtracks By:
Tim Shellabarger (Will Sessions, Innerphonic) – DJ
Kevin Henry (Slow's BBQ) – DJ
Drew Pompa (1/2 of the Siege) – DJ
Wednesday,November 23rd 2011
Woodbridge Pub
5169 Trumbull Ave.
Detroit, MI 48208
Map It
10pm-2am
NO Cover